"Banking at the doorstep" this phrase became reality in the year 2015 with the start of Payment Banks in India. Bharti Airtel was the first company to start a live payment bank in India. It is called Airtel Payments bank.
With the introduction payment banks, the dream of "Banking at your doorstep" could turn out to be a reality even in the remotest of areas in India. This was a bold step to redefine banking system in India thereby extending services to the common masses at a larger scale.
Let's dive deep to know everything about Payment Banks in India.
History of Payment banks.
Reserve Bank of India (RBI), on 23rd September 2013 constituted a Committee on Comprehensive Financial Services for Small Businesses and Low Income Households that was headed by Nachiket Mor. The committee submitted it's report on 7th January 2014 and also recommended the formation of a new category of bank (Payment Banks) among its other recommendations.
Draft guidelines for payment banks, seeking the opinion of interested entities as well as general public was released by RBI on 17th July 2014. Final guidelines for Payment banks were released by RBI on 27th November 2014.
41 applicants applied for the license of Payment Bank and their list was released by RBI in February 2015. The license applications were evaluated by External advisory Committee (EAC), headed by Nachiket Mor, which submitted it's report on 6th July 2015 after examining the financial track record as well as governance issues of the applicant entities.
On 19th august 2015, RBI gave in-principle license to 11 entities to launch Payment Bank. The In-Principle license is valid for a period of 18 months and the concerned entities are required to fulfill the requirements within this period. They cannot engage in the Banking activities in this period. Upon satisfactory fulfillment of the conditions required to setup a Payment Bank, RBI will grant full licenses under Section 22 of the Banking Regulation act, 1949.
Payment Banks in India – Definition and Functions.
 A payments bank is like any other bank, but operating on a smaller scale without involving any credit risk. In simple words, it can carry out most banking operations but can't advance loans or issue credit cards. It can accept demand deposits, offer remittance services, mobile payments/transfers/purchases and other banking services like ATM/debit cards, net banking and third party fund transfer
A payment bank has been categorized as a "Scheduled bank". But, it is mandatory for the companies to include the word "Payment bank" in its name in order to differentiate it from other regular banks. Further, payment bank is allowed to perform not all but only certain selective functions of banking.
There has been a surge in the number of digital wallet service providers which have started offering their own Payment banks. It is the right pursuit for India to bring around 300 million unbanked individuals to the mainstream monetary flow. Being hailed as a major push for financial inclusion in the country, the RBI granted 'in-principle' approval of setting up Payment Banks.
Speaking at the launch event of the PayTM Payments Bank the Union Finance Minister Mr. Arun Jaitley said and I quote:
"This expands the horizon of financial inclusion in the country. The chain reaction is visible now and the habit of dealing only in cash is gradually changing. We are all nudged into a system where convenience and security require switchover".

"Payment banks will change the way people think, change the way they keep the money, where they keep the money, the way they pay."
Why payments banks? The main objective of payments bank is to widen the spread of payment and financial services to small business, low-income households, migrant labour workforce in secured technology-driven environment.
How is a Payments Bank different from other Banks?
> Payments Bank cannot lend money to their customers
> Payments Bank cannot open Fixed deposits or recurring deposits
> Payments Bank cannot allow a balance of more than Rs.1 lakh in any account, overnight
How are they different from traditional banks?
Interest rates: While the standard interest rate for commercial bank lies between 3.5 and 6 per cent, the Airtel payments banks offers the highest interest rate of 7.25%. PayTM payments bank offers an interest rate of 4 per cent on a savings account and 7 per cent on fixed deposits. Payments banks can accept deposits of up to Rs 100,000 per account from individuals and small businesses.
Zero balance account: Unlike most commercial banks which levy charges if customers fail to hold a minimum balance in their account, payments banks offer zero balance accounts or no minimum balance accounts without any extra charge.
What are the objectives of the Payments Banks in India?
According to the Reserve Bank of India (RBI) data, almost 60% of the people of the country are still not connected with the banking sector. This includes many lower-income people; who live in rural areas of the country, work in unorganized sector and often migrate to cities/abroad in the search of a job.
The main objectives of setting up of payments banks are to ensure the financial inclusion by providing payments/remittance services to migrant labour workforce, opening up small savings accounts of small business holders, low-income households, workers of the unorganized sector.
Services Offered By Payment Banks In India
Payment banks are restricted to offer only a bunch of services. These services are:
You can open a Savings account or a current account in payment banks.
Payment bank also pays interest on deposited money just like traditional banks.
Payment banks can issue debit/ATM cards to the customers.
You can access payment banks services through Mobile banking.
A payment bank can accept deposits up to Rs.1 lakh only per individual.
You can use a payment bank app to transfer money and make utility bill payments as well.
Payment banks provide internet banking services including payment transfer services such as RTGS/NEFT/IMPS.
Payment banks can transfer payments through any channels like Branches, ATMs, mobile apps, or business correspondents.
A payment bank also provides other financial services like mutual funds, insurance products, pension products, and forex services.
Services that Payment Banks don't provide.
Here is a list of some of the major services that payment banks cannot offer.
Similarly, Payment banks can't issue credit cards to their customers.
As per the RBI guidelines, these Payment banks cannot issue credit cards.
Payment banks cannot deal with any kind of lending business i.e. they are not allowed to issue any kinds of loans like personal loans or any other loans to their customers.
Payments banks cannot accept deposits from Non Resident Indians or NRIs.
They are not allowed to setup subsidiaries for undertaking non banking financial services.
Features of Payments Banks.
Payments banks will do almost all the work that is currently being done by commercial banks, but the payments banks will work under certain restrictions like;
As the commercial banks, the payment banks will also accept the money of the people as a deposit but the limit is fixed, which means the payments banks can accept deposits up to a maximum of Rs. 1 lakh from a customer.
Payments banks; will be entitled to issue ATM or debit cards to their customers but cannot issue a credit card.
Payments banks; will be authorized to open both savings and current accounts of their customers.
Payments banks cannot provide loans or lending services to customers.
Payments banks cannot accept deposits from the Non-Resident Indians (NRIs). It means; the people of Indian origin who have settled abroad cannot deposit their money in the payment banks.
Payments banks will be allowed to make personal payments and receive remittances from the cross border on the current accounts.
Payments banks will have to deposit the amount in the form of a Cash Reserve Ratio (CRR) with RBI as other commercial banks do.
Payments Banks will have to invest a minimum of 75% of its demand deposits in government treasury/securities bills with maturity up to one year and hold a maximum of 25 %in currents and fixed deposits with other commercial banks for operational purposes.
Payment banks can provide the Facility of utility bill payments to its customers and the general public.
Payments banks can not open subsidiaries to undertake Non-Banking Financial Services activities.
Payments bank; with approval from RBI, can work as a partner with other commercial banks and also can sell mutual funds, pension products, and insurance products.
Payments banks must use the word "Payments Bank" in their names to look different from other banks.
Payments banks will be allowed to provide internet banking and mobile banking facility to their customers.
Payments banks can become a business representative of any other bank, but it will have to comply with the guidelines of the Reserve Bank of India.
The payments banks can accept remittances to be sent to or receive remittances from multiple banks through payment mechanism approved by RBI, such as RTGS / NEFT / IMPS.
List of Payment Banks in India Approved by RBI.
Aditya Birla Nuvo
Airtel M Commerce Services
Cholamandalam Distribution Services
Department of Posts
FINO PayTech
National Securities Depository
Reliance Industries
Sun Pharmaceuticals
PayTM
Tech Mahindra
Vodafone M-Pesa
Note: From the above , three entities "Cholamandalam Distribution Services", "Sun Pharmaceuticals" and  "Tech Mahindra" have surrendered their licenses.
Each of the Payment Banks had a distinguished advantage prior to opening their respective payment banks. They are now, trying to make it to the top in this race by drawing the best out of their already established resources, and reach amongst people.
As of now, only 6 banks are working namely;
1. Airtel Payments Bank Limited
The first to open its payment bank, Bharti Airtel was also the one to provide the largest interest rate on deposits in its initial days. Airtel has about 1.5 million retailers across the country which can serve as banking points too, in future. At present, there are about 4 lakhs of such banking points which is more than the number of total ATMs in India.
It has UPI transfer feature in it for transfer of funds between various bank accounts.
Along with a MasterCard, it also provides a digital debit card without any charges.
Opening an account is very easy and happens almost instantly. You can do so with the help of your Aadhaar card and fingerprints only.
It provides free accidental insurance of 1 lakh to all its account holders and 5.5% interest rate per annum.
Airtel Payments Bank has the following services/features: a)

UPI (Unified Payments Interface) Digital Payments b)

Airtel Money Digital Wallet c)

Provides PMJJBY Insurance Plan (Govt. Project) d)

Offers Atal Pension Yojana (Govt. Project)
When you open an account with Airtel Payment Bank, your mobile number becomes your account number.
At the time of establishment, Airtel payments bank's capital was $441 million (₹3,000 crores).
2. India Post Payments Bank Limited
India has more than 1.5 million post offices all over the country, about 90% of which are in the rural areas. This puts India Post payment banks at an upfront as compared to others. It is also most capable of achieving the goals of RBI with the payment banks initiative. Right now, it is in beta testing phase at 650 post offices only, but the government is planning to make it available at all the post offices in the near future.
Provides a variable interest rate from 4.5% to 5.5% depending on the deposit amount.
It also provides a zero balance account opening feature.
If you have a savings account with the post office, then you can convert it to a payment bank savings account making you further eligible for the better interest rate on your savings.
India Post Payments Bank has the following services/features: a)

IMPS, NEFT and RTGS Services b)

UPI Digital Payments c)

Direct Benefit Transfer d)

Supports Bharat BillPay e)

Savings and Current Accounts
Another feature that will be there in future is the ability to make cash deposits and withdrawals from the comfort of your home. The government might double up the role of postmen and charge for this service.
At the time of establishment, India Post Payment Bank's capital was ~ $200 million (₹1,435 crores).
3. Fino Payments Bank Limited
Fino is not focusing much on advertising but makes up for it by providing more services and features than all of its competitors. They have  410 branches, 25,000 banking points, and are also present at BPCL petrol pumps in India, the first, to go live with all of the branches and banking points, on day one.
Requires a minimum balance of INR 1000/- in the account.
Its main focus feature is remittance for which it charges 1% fees.
Likewise, PayTM it provides an interest rate of 4% per annum.
It provides various other features & services like business correspondent loans, life and general insurance, bill payments, along with term deposit, auto loan, personal loan, and home loan via ICICI bank.
Has the partnership with various banks to provide gold loans too.
The Customer is KING. With the emergence of new players in this market, competition is only bound to increase. With an increase in competition, the customers will enjoy the benefits of it. Each of them is trying to be better than their competitors by offering their customers various features and services which users can avail from the comfort of their homes.
The unbanked population has remained outside the periphery of participating in the economic system to reap the benefits of growth and economic prosperity. Always mobile, hard working and eternally caring for the families, this workforce needs recognition. This is not about financial inclusion but about the financial legitimacy of the recognition for the efforts. The banking system is the second step in this journey, with employment being the first.
Payments banks can strategically use technology and smart segmentation as disruption tools and tactically leverage their existing customer base and distribution channels to quickly acquire critical mass. This calls for quick collaborations with new age disruptors, optimization of resources, continual pivoting and regular engagement with RBI to evolve the rules.
Rightly said, Payments banks will alter the way transactions take place and they will complement banks, not compete with them.
Then Governor of RBI, Dr. Raghuram Rajan, on Payments banks:
"They are an add-on to the banks rather than competitors. Payments banks will be feeders into the universal banks… Payments banks can't do something universal banks can do. Payments banks will revolutionize banking, make it very exciting for customers and existing lenders will have to improve service to retain depositors. "

"For a number of years, we have been saying that there is a need of a revolution in the banking sector. The revolution is upon us today."
Payment Banks remove many limitations which have been a hindrance in the way of last mile banking so far. It is an important step towards ensuring financial inclusivity by promoting greater participation of disadvantaged groups, which are at the bottom of the 'financial pyramid', in the mainstream financial services. Being easily accessible and feasible for everyone, it is a dream come true for rich and poor alike. And, for the banking sector 'Grass root banking' is definitely like hunting the treasure at the bottom of the pyramid:
"A box without hinges, key or lid, yet golden treasure inside is hid." – JRR Tolkein
4. PayTM Payments Bank Limited
PayTM has the largest customer base for digital banking via its wallet.  It gives an interest rate of 4% and targets having 1 lakh outlets all over the country by the end of 2018.
With PayTM payment bank, you can open a zero balance account.
It also provides fixed deposit facility along with a free digital Rupay debit card.
You can also get a physical card for an applying fee of 125/- with 100/- maintenance per year afterward.
With PayTM Payment Bank, you get a free insurance cover of 2 lakhs when you open an account.
PayTM Payments Bank has the following services/features: a)

Rupay Debit Cards b)

No account fees and charges c)

UPI Digital Payments d)

Money Withdrawal from Any ATM
You can open an account by simply downloading the app. But to be able to use all the features completely, you have to get your KYC done.
PayTM Payments Bank had received a total of $28.2 million (₹200 crores) as funding amount.
5. NSDL Payments Bank Limited:
NSDL (National Securities Depository Limited) is one of the 6 functional payments banks in India. It is in function from 29 October 2018 as stated by the RBI .
However, NSDL Payments Bank is a non-government company and comes under "company limited by shares" category.
Authorized Capital for the company is more than $29 million (₹200 crores) and is based in Mumbai, Maharashtra.
Note: Yet to start its operations. They have started the registeration for account opening in NSDL Payments Bank.
6. Jio Payments Bank Limited
Jio Payment Bank Limited is a 70-30 joint venture between Mukesh Ambani's Reliance Industries Limited and India's largest lender State Bank of India (SBI).
Reliance Industries Limited, Mumbai, was one of the 11 applicants which were issued in-principle approval for setting up a payment bank in August 2015 by RBI. However, it received the order to operate in March last year. Tech Mahindra, Reliance Industries and Vodafone were the big names in the list of applicants who got the RBI's nod.
Jio Payment Bank cannot collect deposits exceeding Rs. 1 lakh.
Jio Payment Bank cannot lend or provide credit cards. It can, however, issue debit cards.
For opening an account with the Jio Payment Bank, the customers would need to submit their 12-digit Aadhaar number.
Jio Payments Bank is promoted by Reliance Industries.
Jio Payments Bank is a joint venture between Reliance Industries Ltd (RIL) and the country's largest bank SBI (State Bank of India).
Reliance Industries held a 70 per cent stake in Jio Payments Bank while the remaining 30 per cent was with State Bank of India (SBI), according to the energy conglomerate's annual report of 2017.
Jio Payments Bank has been granted a license under Section 22 (1) of the Banking Regulation Act, 1949, the RBI said.
The RBI had on August 19, 2015 given in-principal nod to the Reliance Industries group company to set up a payments bank.
Other major groups that received the in-principal approval included Aditya Birla Nuvo, Bharti Airtel, Department of Posts, Tech Mahindra and Vodafone.
Reliance Industries was among 11 applicants which were issued in-principle approval in August 2015 for setting up payments banks.
Of these companies, telecom major Bharti Airtel was the first to begin payment bank services in November 2016.
Birla group's Aditya Birla Idea Payments Bank was the latest in this space whose operations started from 22 February this year.
The Department of Posts also currently offers payments bank services on a pilot basis.
Jio Payments Bank has the following features/services:-

a)Online Payment Service 

b)UPI Digital Payments c)

Digital Wallet d)

Quick Account Opening
5 smart things to know about payment
Payments banks were introduced by the RBI to widen financial inclusion to small savings account holders, low-income households, unorganised sector, migrant workers and small businesses.
NBFCs, corporate business correspondents, mobile phone firms, supermarket chains, public sector entities and others can set up payment banks meeting the minimum capital requirement of Rs 100 crore.
Payment banks restrict activities to acceptance of demand deposits, remittance services, Internet banking and other specified services but cannot undertake lending services.
A payment bank can accept only savings and current deposits of up to Rs 1 lakh per customer. They can issue ATM/debit cards but not credit cards.
They can distribute non-risk sharing simple financial products like mutual funds and insurance products.
Payment Bank over Traditional Banking System
Zero Balance Account – No minimum balance is required for operating such accounts whereas traditional banking system would require you to maintain a minimum of Rs 1000 as monthly balance which may increase as per the geographical location.
Mobile No. as Account No. – Your mobile number is your account number for such payment banks whereas traditional banking systems would designate you with a unique account number keeping your mobile number just for alerts and notifications.
Offers at disposal – A lot of cash back and discounts are poured on the customers once they register for such an account also traditional banks are these days offering such discounts and cash backs at our disposal. Some players also include free accidental insurance policy as well.
They are safe – Security on such platforms is of uttermost importance hence companies keep a lot of security layers on, traditional banks are also very much keen on the same and provide industry standard security features at all levels of banking.
Banking at convenience – You can use your payments bank account right at the convenience of your home or elsewhere without visiting physical a bank whereas traditional banking till today needs you to visit a physical bank for most of the time which is being worked upon and many are doing that as well.
Interest Rates – Rate of interest on the savings payments bank account is way more than these traditional bank accounts, where the highest rate of interest being provided is up to 7.25 %.
Easier KYC & banking fees – Payments bank are known for their easy KYC norms and minimal fees being charged whereas traditional banks really complicate KYC norms and their fee structure is also pretty high than normal.
Eligible Players who can attain Payment Bank License
The Reserve Bank of India has laid down a long list of eligible players for Payment Bank license as it requires a minimum paid-up capital of 100 crores. Let's take a sneak peek of the eligible promoters who can carry out the Payment Bank license procedure:
Existing issuers of non-bank Prepaid Payment Instrument (PPI) authorized under the Payment and Settlement Systems Act, 2007;
Non-Banking Finance Companies (NBFCs);
Professionals/Individuals;
Corporate Business Correspondents (BCs);
Supermarket Chains;
Public Sector Entities;
Real Sector Cooperatives owned by residents;
Mobile Telephone Companies;
Companies (Public companies);
Also, a promoter/group of promoters can be eligible for Payment Bank License if he/it has a Joint Venture with an existing scheduled commercial bank.
Regulatory Authorities which governs Payments Bank
A Payment Bank must get registered under these Government bodies/ legislation:
Companies Act, 2013;
Reserve Bank of India Act, 1934;
Banking Regulation Act, 1949;
Payment and Settlement Systems Act, 2007;
Foreign Exchange Management Act, 1999;
Deposit Insurance and Credit Guarantee Corporation (DICGC) Act, 1961;
And other applicable rules and regulations that may incur from time to time.
Provisions that every Payment Bank must adhere
All the Payment Bank promoters must abide by these provisions of RBI:
The Payments Banks are prohibited from accepting NRI deposits.
It should have a minimum paid-up capital of 100 crores.
Such banks can issue ATMs or debit cards but cannot render loan and credit card services.
The Payment Banks can accept current deposits and savings bank deposits from small businesses up to a prescribed limit.
Also, they can accept remittances as a channel.
Under the digital platform of Payments Banks, customer can avail several internet banking solutions on lower cost. However, it is indispensable to comply with RBI compliances on information security, internet banking, technology risk management, electronic banking, and cyber laws.
Steps to follow for Payment Bank License Procedure
After gaining a comprehensive knowledge of payments bank, you must be eager to fulfill the legal requirement and procure a license. So, follow this full-fledged procedure to obtain a Payments Bank license:
The first step that an applicant has to undertake is to incorporate a Public Limited Company under the Companies Act, 2013, as per RBI regulations.
Thereon, the next step is to file an application to Chief General Manager of RBI to plead for the issue of Payment Bank license.
The External Advisory Committee (EAC) shall evaluate and examine the application. The Committee will call the applicant to verify the authenticity of the provided information.
Once the examiner gets fully satisfied, and there is no scope of scepticism left. Thereby, the Reserve Bank of India will grant the license.
Subsequently, the name of the applicant will get displayed on the official site of RBI. When the applicant gets the principle approval to function as a Payment Bank from RBI, he must set the bank within 18 months.
Why are Payments banks important?
This is the first time in Indian history the RBI has granted banking authority to other non-banking financial sectors and has provided a second set of differentiated licenses to small-scale banks already. This initiative is aimed at redefining the Indian economy by providing a secure payment gateway for all transactions. It also reaches out to the migrant laborer's and lower income groups by providing all services on mobile phones and issuing a very low transaction fee for every service. After demonetization, this is the RBI's second move to eliminate black money and promote cashless transactions to digitize India. Since it is an initiative to go cashless, it eliminates the need to exchange bad currency notes and the cost of regeneration of fresh notes. This scheme has already been introduced worldwide and has been a groundbreaking success in Kenya. Keeping these pointers in mind, there is no doubt that payment banks are the future of banking and are going to be a game-changer in the financial sector.
Utilizing the plethora of banking services offered by payment banks can help you prevent fraud in your business due to the secured gateway it provides.
Current Scenario
Payments Banks want RBI to increase the deposit limit to Rs 5 lakh
Payments banks want RBI to increase the limit of deposit. A representative of payments banks has approached RBI and suggested to increase the limit from Rs 1 lakh to Rs 5 lakh. Payments banks are going through a challenging time, due to zero MDR charges, weak business models and tough competition. Amidst all this, how beneficial it will be for a payments bank to increase the deposit limit?
"The demand to increase the deposit limit from one lakh was always there but payments banks have found a reasonable ground to support their demand, after the government increased the deposit insurance limit to Rs 5 lakh,"
Major challenge for the payments banks is there are no major takers as the limit of Rs 1 lakh is really low. Merchants or customers didn't want to go ahead with a bank with limitations as they had to go to other banks if the amount is more
Current situation of payments banks
The interest of payments banks reduced soon after RBI granted its license due to a tough business model. RBI neither allowed payments banks to offer credit nor accept higher deposits. Payments banks were allowed to operate in remittance, payment transfer, utility payment, etc. But most of such facilities were also offered by Wallets, FinTech's operating in payment space and banks, too. Considering the tough competition, 3 out of 11 payments banks — Cholamandalam, Tech Mahindra, and Sun Pharma — surrendered their license before even starting a business. After a successful launch and operating in the space, Aditya Birla Payments Bank also surrendered its license.
Currently, Fino Payments Bank, Indian Post Payments Bank and Airtel Payment Bank are aggressively operating in this space, while Jio Payments Bank is going slow and NSDL is yet to launch its services.
Is it safe to have an account with a payment bank?
Of course, without any doubt. First of all, a payment bank needs to maintain the usual CRR (Cash Reserve Ratio) with the RBI. Further, a payment bank will be required to invest 75 per cent of its demand deposit balances in Statutory Liquidity Ratio (SLR), which is eligible Government securities and treasury bills, which being sovereign instruments, are safer. Again, a maximum of 25 per cent will have to be held in current and fixed deposits with other scheduled commercial banks.
Last but not the least, the minimum capital required to set up a payment bank is ₹100 crore!
Hence, all these norms, including capital adequacy, are indeed comforting from safety perspective
Conclusion:
Payment banks are the latest initiative from the Reserve Bank of India (RBI) with the primary motive to promote digital, paperless and cashless banking in our nation. It is an approach in which other non-banking financial organization's are granted the authority to offer basic bank services to every Indian citizen. The idea behind starting theses small banks was to increase financial inclusion. A payments bank is a differentiated bank with the specific objective of catering to the unbanked and underbanked.
Though, large scale use case and profitability still remain elusive to them. They largely rely on income from the processing transaction fee. This alone cannot make them profitable, growth in transaction volumes is essential for them.
These payment banks provide all basic banking services and allow cash deposits of up to Rs 1 lakh per account. Since these banks primarily target low-income groups, they offer a minimal fee for every transaction. Additionally, few of them offer a higher interest rate in the range of 4% to 7% on the money deposited compared to the interest rate of 3 to 4% offered by most commercial banks.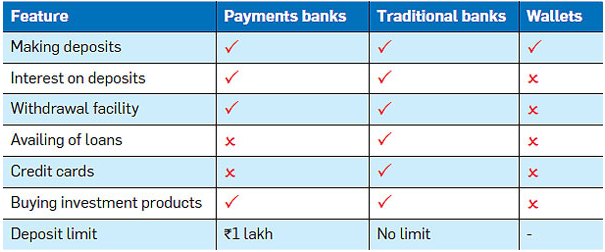 To Summaries it:-
Payments banks can issue debit cards but they are not eligible to provide credit card facilities.
Payments Banks are allowed to set up their own ATMs (automated teller machines).
Payments Bank cannot lend money to the people.
Payments banks can't accept fixed deposits (FDs), term deposits, recurring deposits (RDs) and any non-resident Indian deposits.
Payment Banks will provide banking services to migrant labor workforce, low-income households, small businesses, other unorganized sector entities and other users.
The setting up of the payments banks will not only increase the financial inclusion in the country but also strengthen the weaker section of the country so that they can also give their contribution in the economic development of the country.
"Payment banks" are yet another important addition to digital innovation in the banking sector. But, they need to be managed properly to sustain and grow in this vast and dynamic banking arena.
Payments Banks is a game-changer that satiates the modern era needs. Nowadays, most of the people rely on smartphones to make a payment since it is more convenient and saves their time to visit a bank in person. Moreover, Payment Bank is a secured internet-based financial institute which helps to suffice the Government's dream of 'Digital India.'
If you want to know more about other entrants contributing to the "Fintech Revolution in India", do  subscribe to my blog mailing list and checkout my exclusive blog post.
That's it for now.
Thank you so much for taking the time to read my article! Really appreciate the continued support!
If you have a related query, feel free to let me know in the comments below.
Be part of my FinTech community by subscribing to my blog for more industry content and discussions
Also, share the article with the people who you think might be interested in reading it.
Please leave a comment and share your feedback; it's what keeps me improving.
Would mean a lot to me and it helps other people see the story.
 I look forward to your responses!
Thanks and Regards,
Neha Sahay